Whitehead Institute 2021 Annual Report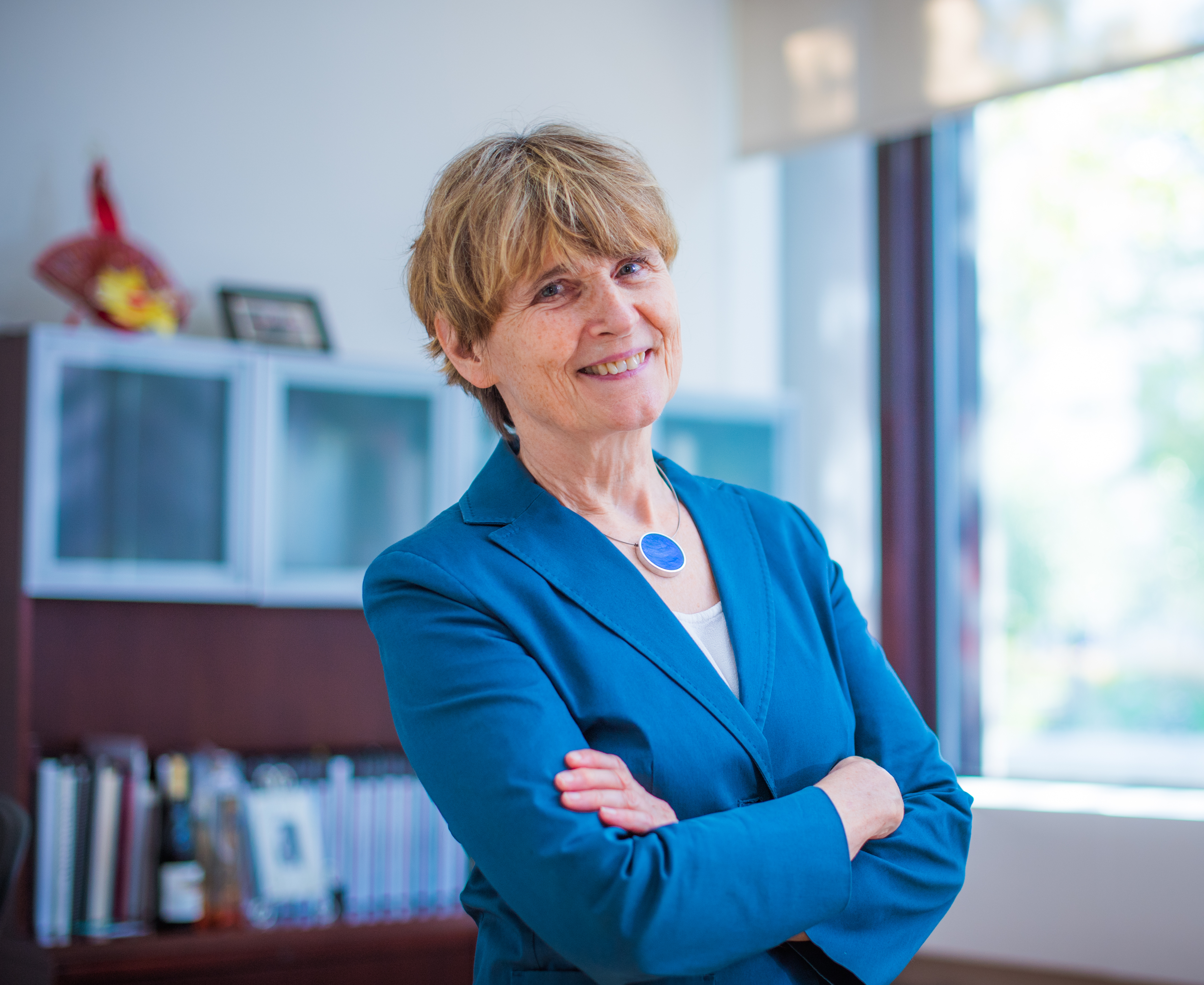 A message from Ruth Lehmann
I'm pleased to introduce you to our annual report for 2021. This was my first year as director. It was, to say the least, eventful — marked by the continuing COVID-19 pandemic and by the nation's ongoing struggle with injustice and inequity. Through it all, Whitehead Institute carried on its mission of uncovering the most fundamental aspects of biology and human health. 
For example, Olivia Corradin created an approach for defining epigenetic variation in some individuals with opioid use disorder. This will help researchers identify genes associated with the disorder, and could open a path to new therapeutics. Yukiko Yamashita extended her pioneering discoveries on satellite DNA — which has long been regarded as "genomic junk," but which, Yukiko shows, is essential for keeping individual chromosomes together in a single nucleus. Jonathan Weissman and his colleagues developed a new gene editing technology called CRISPRoff — which allows researchers to control gene expression while leaving the DNA sequence unchanged. These are a small sample of the extraordinary research being done across the Institute.  
 
Building on our knowledge and capabilities, we began an ambitious initiative on the biology and health impacts of climate change. We believe that climate change represents an existential crisis for humanity. We're determined to bring our expertise, passion, and resources to bear in helping mitigate its negative effects on human health and wellbeing.
 
This year, we also focused on the vibrancy of the Whitehead Institute community itself. Pioneering science requires having some of the world's smartest, most creative, skilled, and intellectually courageous researchers. It demands that we develop new ideas and consider new perspectives in a safe and supportive environment. That's why we're pursuing a comprehensive plan to enhance diversity, equity, and inclusion at Whitehead Institute. 
Creating a truly diverse and inclusive community takes focus and hard work. But the end result will be an even stronger, more resilient organization: one that is ready to meet the extraordinary challenges the future holds — and that's well-positioned for our next 40 years of achievement.
 
I hope that you'll explore the richness of this annual report. I think you'll be impressed by all we're doing to advance biomedical science and human health.
Sincerely, 

Ruth Lehmann
Our research mission is to be a trailblazer for fundamental discoveries in science. We encourage our scientists to take risks, take on the difficult problems and explore big open questions to reveal new biology for the benefit of global health. Explore the scientific sound garden's updates on our labs' recent accomplishments; then enjoy a selection of news stories and multimedia features on Whitehead Institute science in 2021.
A sound garden of some of the year's most exciting research. Click on the audio links to hear from each Whitehead Institute primary investigator.
Climate change initiative
Image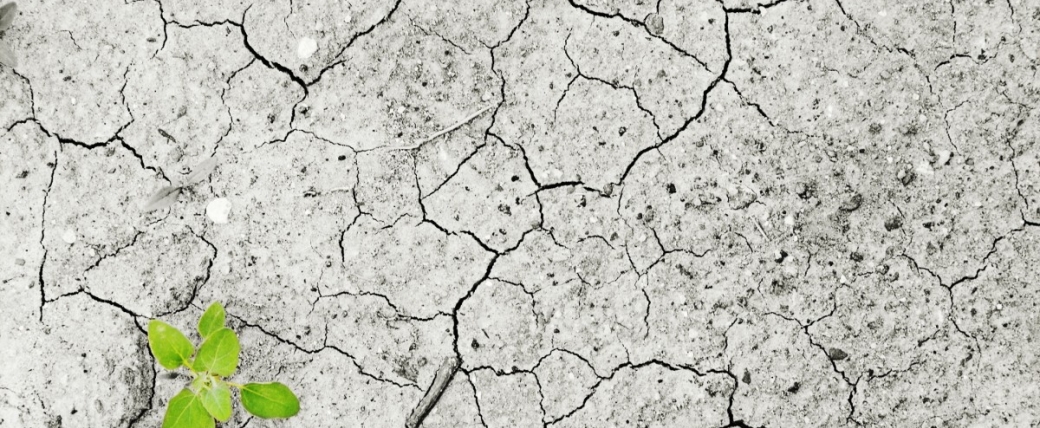 Confronting an existential crisis
Whitehead Institute establishes Whitehead Initiative on Biology, Health, and Climate Change
Earth's average surface temperature has increased more than 1.18 degrees Celsius over the past two centuries. The resulting climate change is contributing to more intense hurricanes, extreme flooding, and rampaging wildfires — and to slower-moving crises such as drought, food insecurity, deadly high temperatures, extinction of many species, and spreading infectious diseases.
 
Those are just the effects we can see. What biological effects of climate change are not yet apparent? What impacts will it have on human health and well-being in coming decades?
 
Right now, science has limited knowledge about how to mitigate the negative effects of increased temperature on biology, and society lacks biotechnological tools to begin addressing detrimental impacts. Huge segments of the world's population will be at risk if scientists and engineers cannot develop methods for anticipating, understanding, and ameliorating climate change's effects on human health. 
 
"Whitehead Institute believes that climate change is an existential crisis for humanity; further, that we must help create the fundamental scientific knowledge and biotech tools necessary to protect human health in the face of the emerging challenges," says Institute director Ruth Lehmann. "We are establishing the Whitehead Initiative on Biology, Health, and Climate Change (WIBHC) to explore the biological impacts of increased global temperatures and their implications for human health; and to spark new biomedical and biotech interventions to prevent or treat detrimental impacts on health and mitigate negative effects on agriculture and other essential natural systems."
" ... we must help create the fundamental scientific knowledge and biotech tools necessary to protect human health in the face of the emerging challenges," says Institute director Ruth Lehmann.
Initially, the WIBHC is pursuing work in:
 
Plant Biology — including projects seeking to create seed-producing plant varieties that are more nutritious, have a higher yield, and are adapted to climate change; and develop methods to synthesize or make more environmentally sustainable the availability of medicines and industrial products that originate in plants. Another effort focuses on orphan crops, which are species that are essential food sources in small areas but are not able to be grown internationally. Through genetic research, researchers hope to enhance these plants for production elsewhere. Recently, an anonymous donor made a gift of $3 million to the Institute's Dr. Vincent J. Ryan Orphan Plant Project to support this initiative.

Infectious Disease — including exploration of climate change's effects on development of infectious organisms and the robustness of the hosts that transmit them; and development of one-time, bioengineering-based interventions that prevent vector-based disease transmission. 
 
Temperature Sensitive Cellular Processes — including exploration of the molecular mechanisms by which organisms adapt to extreme environmental conditions; and investigation of the effects of temperature increase on cellular proteins, cell function, and organism reproduction.
 
Across those scientific thrusts, the WIBHC will also generate new tools and methods to help drive research and development forward; initiate scientific collaborations and institutional partnerships; and help inform the public and train future generations of researchers and policymakers.
 
"Whitehead Institute has long been a pioneer in foundational biological research," Lehmann says. "Today, we are passionately committed to applying the Institute's knowledge, tools, and capacity for innovation to protect human health from emerging climate challenges.
 
"As traumatic as the COVID-19 pandemic has been, it enabled scientists to demonstrate both the practical value of discovery research and our collective ability to quickly uncover, translate, and apply new knowledge," Lehmann observes. "Overcoming climate change's threats to human health will require an even larger scientific effort. And it will demand a similar willingness by funders to make up-front investments in research and development."
Click through the gallery to view some research highlights from the past year. 
New approaches from Whitehead Institute researchers
Tool and method development at Whitehead Institute
Scientists at Whitehead Institute are in relentless pursuit of discoveries that change and deepen our understanding of the biological world. Often, they pose ambitious questions that cannot be answered with the tools and methods that currently exist, but that does not deter them. When our researchers hit a wall, they invent what they need to scale it. In this multimedia series, we explore some of the tools and methods, both experimental and computational, that Whitehead Institute researchers have created in order to answer otherwise unsolvable questions. Read, listen, and watch to learn about these tools and methods, what the researchers have discovered with them, and how what they have created can be widely applied in other research.
Image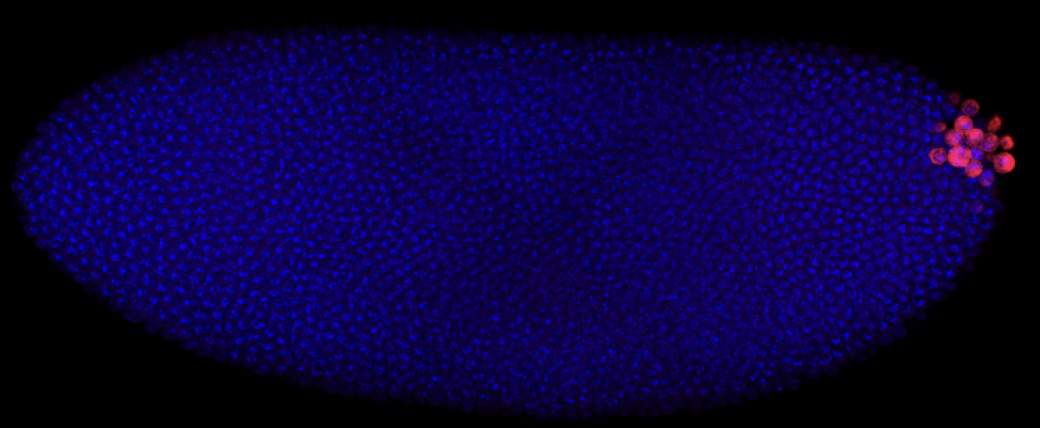 At the heart of Whitehead Institute are the scientists, trainees, and technical experts who drive our research forward. Read on to learn about the achievements and perspectives of individual members of our community, and about our efforts to ensure that each person at Whitehead Institute can pursue their full potential within an equitable and inclusive "One Whitehead" environment.
New Whitehead Institute Members
Image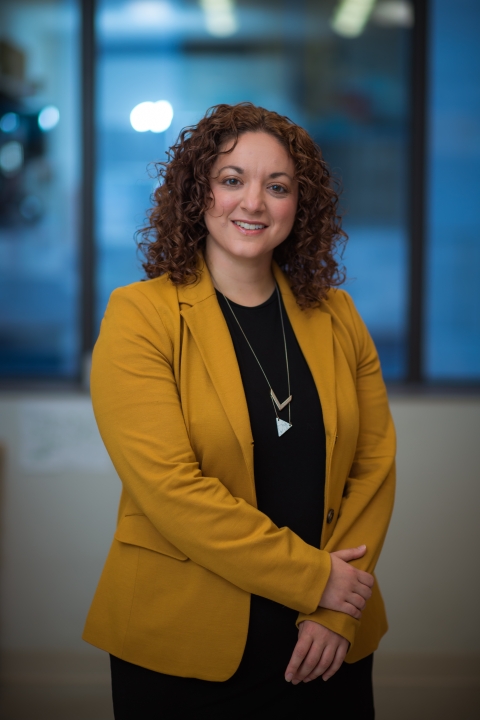 Credit
Gretchen Ertl/Whitehead Institute
Image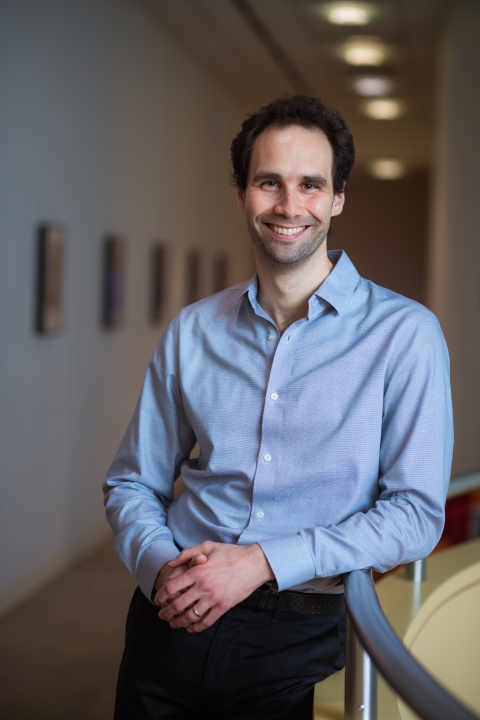 Credit
Gretchen Ertl/Whitehead Institute
Whitehead Institute appoints two new Members 
Two dynamic scientists join the Institute
 
Olivia Corradin, a Whitehead Fellow since 2016, became a Member in July 2021. Siniša Hrvatin, an instructor and postdoctoral fellow at Harvard Medical School through December 2021, joined the Institute in January 2022. 
 
"Olivia and Siniša are creative, collaborative, and highly accomplished early-career scientists," says Institute director Ruth Lehmann. "Each has impressed us with their drive, intellect, and their scientific vision. We look forward to their contributions — as researchers, educators, and colleagues — for many years to come."
 
Corradin, also an assistant professor of biology at Massachusetts Institute of Technology (MIT), investigates genetic variants — small differences in DNA sequence, which can prompt disease-causing changes in gene regulation. During her five years as a Whitehead Fellow, her lab defined the concept of "outside variants," which help to explain how genetic variants increase one's likelihood of developing disease. She also developed a method to identify the cell type affected by a specific disease-linked variant, and then used it to single out oligodendrocytes as one type of brain cell involved in multiple sclerosis. Most recently, Corradin created an approach for defining epigenetic variation — which is caused by factors other than DNA sequence changes — in some individuals with opioid use disorder; this will help researchers identify genes associated with the disorder. 
"I look forward to continued collaboration and to becoming a part of the rich history that shapes our Institute," Corradin says.
Corradin earned a PhD at Case Western Reserve University, where she researched genetic and epigenetic dysregulation in human disease and pioneered approaches to predict gene targets of regulatory DNA sequences associated with variants. 
 
"I'm incredibly excited to be stepping into this new stage at Whitehead Institute and MIT," Corradin says. "I look forward to continued collaboration and to becoming a part of the rich history that shapes our Institute."  
 
Hrvatin investigates how organisms enter torpor and hibernation and how their cells adapt and survive in these states. As a postdoctoral research fellow at Harvard University, he established an experimental paradigm for studying hibernation-like behavior in mice and discovered the neurons that control entry into this state. He also pioneered the Paralleled Enhancer Single Cell Assay platform to generate cell-type-specific adeno-associated virus (AAV) vectors for targeted human gene therapy and to control defined neuronal cell types across species. Previously, as a postdoctoral associate at MIT, he investigated approaches for targeted siRNA delivery to pancreatic beta cells. He also founded ReadCube, a startup that provides access to scientific literature and develops reference management tools. He earned a PhD in stem cell and regenerative medicine from Harvard University, studying directed differentiation from human embryonic stem cells to pancreatic beta cells. 
 
"I've always been inspired by the exceptional scientists, educators, pioneers, and visionaries at Whitehead Institute and MIT Biology," says Hrvatin, who also became an assistant professor of biology at MIT in January 2022. "I am absolutely thrilled for the opportunity to learn from and become a part of this extraordinary community."
Whitehead Fellows Program
Image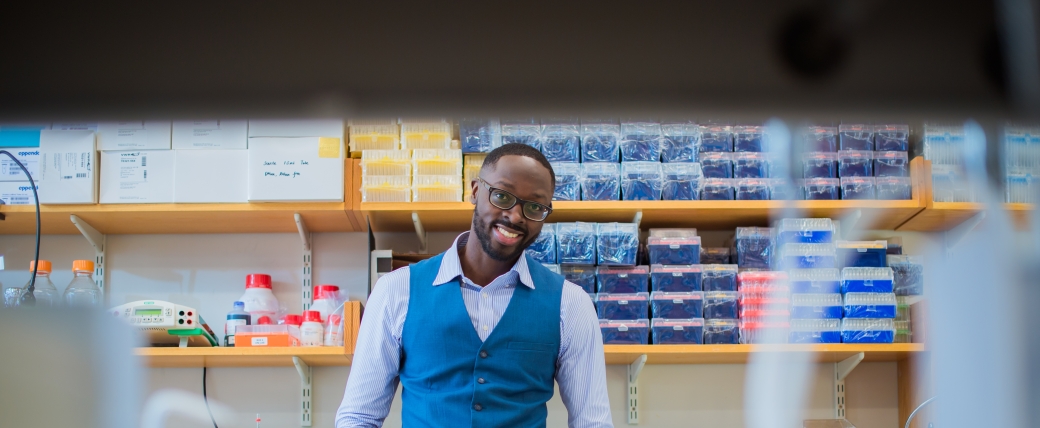 Whitehead Fellows Program: Transitions

The Whitehead Fellows program is renowned for preparing emerging leaders in biomedical research and education. This past year has been filled with positive change for the early career investigators who have led independent labs at Whitehead Institute. 
Image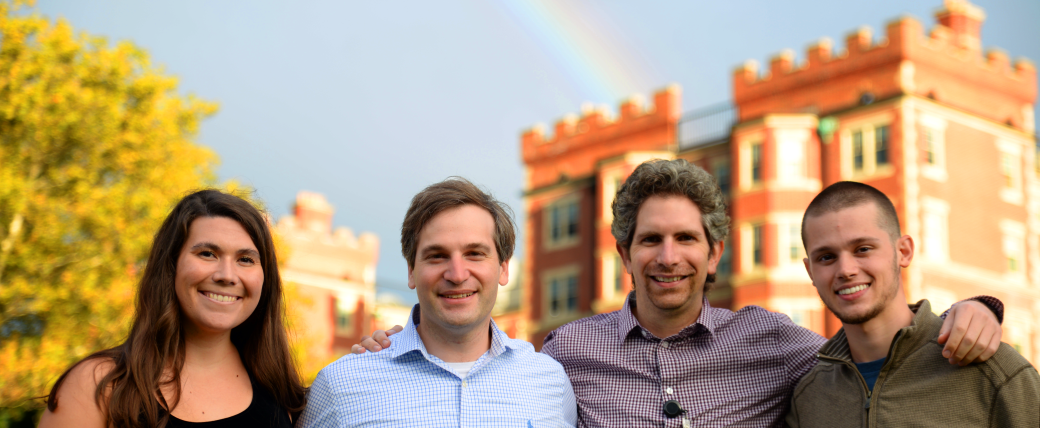 Diversity, equity, and inclusion at Whitehead Institute
Continuously striving to be better

An action plan for diversity, equity, and inclusion 
Ideally, our nation would have learned to appreciate and accept people's differences; the scientific community would have implemented ways to ensure equity of opportunity and to counter sexual misconduct; and our organization would not need a plan for creating a fully fair, open, and inclusive culture.
 
"But neither is the case," notes Institute director Ruth Lehmann, "and Whitehead Institute must no longer simply accept the ways that people are treated unfairly. We must continuously strive to be better — fairer, more open, and more equitable."
 
In July 2021 the Institute introduced its Strategic Action Plan for Diversity, Equity, and Inclusion (DEI) to guide that effort. The Plan has its roots in the decision that Lehmann made, soon after she became director, to hire the DEI consulting firm, Jones Diversity, Inc. To clarify the Institute's DEI challenges, the firm conducted an online survey and interviews with 100 employees. Having evaluated that data, Jones Diversity made a series of specific recommendations for action — ranging from steps that will enhance the diversity of scientists recruited by the Institute to policy changes that treat sexual harassment akin to research misconduct. The Plan, which was developed in full consultation with Institute faculty, incorporates all of those recommendations.  
 
"It is imperative that we achieve real, meaningful change," says Lehmann, "and this Plan will help us do that. The faculty and I are fully committed to it. I have great confidence that, if each member of our community strives toward the goal of realizing a fair and open culture, we will succeed."
Image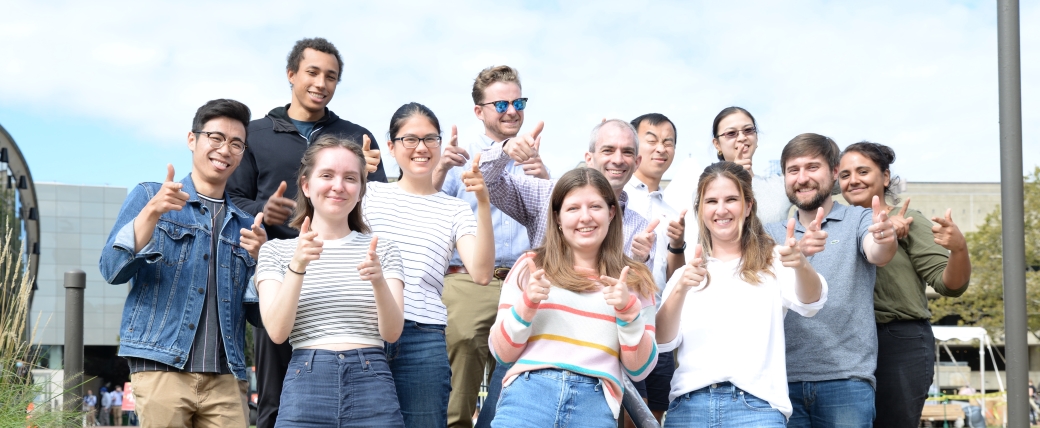 Ready, set, … repeat: ups and downs of the scientific process
Scientists look to discover the unknown. Exploring uncharted territory means that researchers can hit a lot of unexpected roadblocks, and even dead ends, en route to their findings. Learning to deal with these setbacks is an important part of becoming a scientist. Below, a few of Whitehead Institute's postdoctoral researchers respond to questions about how they have handled research failures and navigated other common challenges of research life.
Whitehead Institute board of directors update
Boston Children's Hospital president and CEO Kevin Churchwell joins Whitehead Institute board of directors
At its June 9, 2021 meeting, the Whitehead Institute board of directors elected Kevin B. Churchwell, MD, president and chief executive officer (CEO) of Boston Children's Hospital, to a six-year term.
Churchwell, who previously served as the hospital's executive vice president of health affairs and chief operating officer, is also an associate professor of anesthesia and of pediatric anesthesia at Harvard Medical School.
Prior to joining Boston Children's, he was CEO of the Nemours/Alfred I. duPont Hospital for Children in Wilmington, Delaware and of Monroe Carell Jr. Children's Hospital at the Vanderbilt University Medical Center in Nashville. A graduate of MIT and Vanderbilt Medical School in Nashville, Churchwell completed both his residency and clinical fellowship at Boston Children's Hospital.
During a recent Director's Dialogue conversation with Ruth Lehmann, Churchwell spoke about the relationship between fundamental science and clinical care, his priorities for Boston Children's Hospital, and his hopes for Whitehead Institute. At the top of this article, check out a clip from that conversation where Kevin touches on the importance of the Institute's curiosity-driven work — or watch the entire Dialogue here.
Image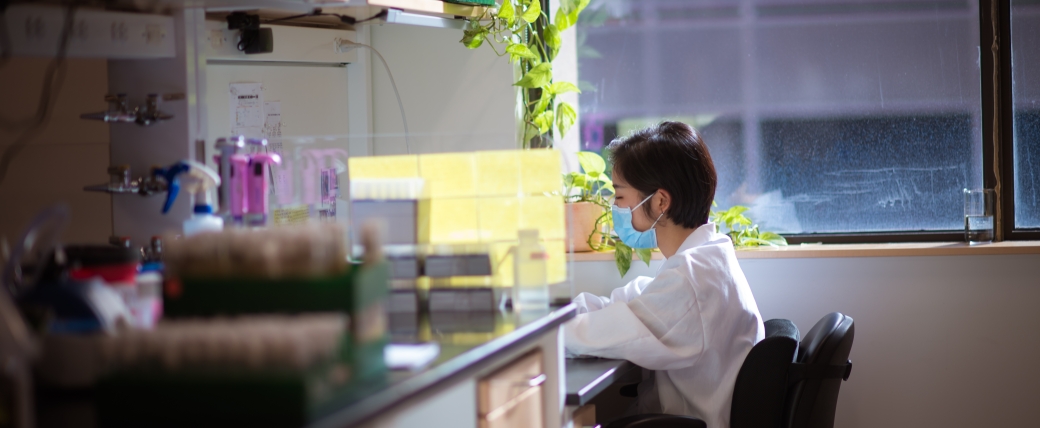 Whitehead Institute's accomplishments reflect both the exceptional talent it attracts and its unique spirit that fosters connections inside Whitehead and beyond.  In a supportive, collaborative, and collegial environment, our researchers are driving major discoveries, creating important new research tools and methods, and spurring translation of their work into new therapeutics. Here are a few snapshots of our impact this year and our plans going forward. 
Image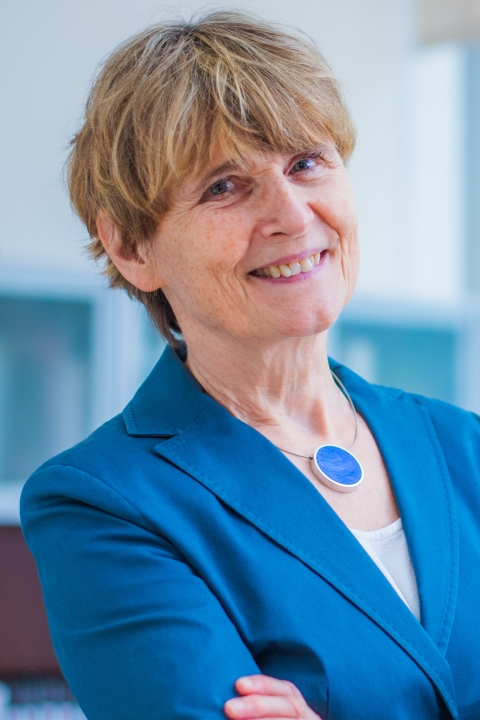 Credit
Gretchen Ertl/Whitehead Institute
Image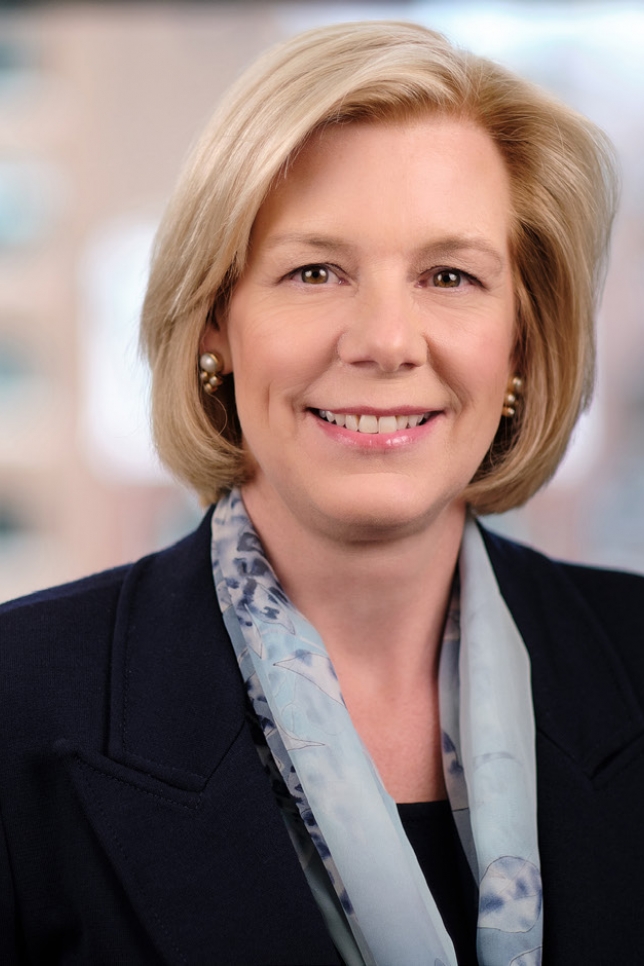 Credit
Courtesy of Sarah Williamson
Year one reflections
Institute director and president Ruth Lehmann and board chair Sarah Keohane Williamson first undertook their roles on July 1, 2020. Their initial year was one of unprecedented challenge, but also of significant accomplishment. Williamson and Lehmann sat down to discuss some of the year's notable achievements.
Sarah Keohane Williamson: Although 2021 brought plenty of challenges, it was a year in which Whitehead Institute also had significant successes.
Ruth Lehmann: I agree. And I think the events of the past year have reaffirmed the importance of our mission to be a trailblazer in science.
SKW:  For you, what does it mean to be a trailblazer in science?
RL: I believe it has three parts. First, investing in new biology: Supporting curiosity-driven, investigator-initiated research, and encouraging scientists to think big, to take on significant, difficult problems. Second, creating strong connections: Fostering innovative science through collaboration beyond traditional boundaries; partnering to apply knowledge we've created; and disseminating new, enabling technologies. Third, building a "One Whitehead" community: Creating an inclusive, respectful and diverse culture that inspires individuals to achieve their full potential; and training the next generation for careers in science as researchers, inventors, mentors, and educators.
SKW: I've been really impressed by how much Whitehead has accomplished this year against this mission. What stands out most clearly to you? 
RL: Most notably, we've continued to invest in new biology despite the challenges of COVID-19 and we've overcome most of the pandemic-created hurdles. Ninety-nine percent of our people are vaccinated; our labs are fully operational; and our investigators are pursuing COVID-related projects investigating the basic mechanisms of infection and identifying new therapeutic strategies. In addition, this fall, we were able to hold our annual scientific retreat for all of our researchers. It's such a significant part of our collaborative culture and—despite the fact that we were all wearing masks and keeping our distance—there was a palpable sense of joy in the room.

This year, we've also launched our Initiative on the Biology and Health of Climate Change. The world knows that climate change is driving intense fires, hurricanes, and floods. But what are its biological effects—and how will they impact human health? We are both exploring that question and beginning to build the foundations for biomedical and biotech interventions to address those developing problems. The Initiative is a great example of how we're encouraging scientists to think big and how we're fostering innovative science through new kinds of collaboration.
SKW: This initiative is very exciting and its potential benefits—from ensuring adequate food supplies to halting the spread of emerging infectious diseases—are extraordinary. What's fascinating is that working on these very practical challenges is a natural extension of the fundamental biological research that Whitehead Institute has excelled at for nearly 40 years.
RL: One other significant accomplishment in 2021 has been our work toward having an inclusive, respectful and diverse culture that inspires individuals to achieve their full potential. We have developed and are implementing a comprehensive strategy for ensuring that the Whitehead Institute community is diverse, equitable, and inclusive. This has been and will continue to be one of my top objectives as director. 
SKW: For our part, the board brings dynamic and diverse voices to our governance; and we are completely in sync with the strategy you are pursuing. We also fully support the difficult decisions that are sometimes necessary. For example, the Institute parted ways with an accomplished senior scientist this past summer—but doing so made clear how committed we all are to maintaining a truly equitable and inclusive culture. 
RL: Having a strong culture is essential if we are to continue being a world-class scientific organization that attracts the best and brightest scientists. I'm really pleased about the three new primary investigators we hired in 2021. Siniša Hrvatin, who joins us from Harvard, studies the biological mechanisms underlying hibernation. Olivia Corradin, who has been a Whitehead Fellow and now joins as a Member, develops computational methods for understanding the genetic origins of disease. And Tobiloba Oni, our newest Whitehead Fellow, develops ways to prompt the immune system to fight cancer. Each of them is skilled, committed, collaborative, and creative. They really represent what the Institute is all about.
SKW: That fact—and the continuing flow of new discoveries and new research tools that Whitehead Institute produces—is what makes my work as board chair so fulfilling. Beyond the board's ongoing governance and oversight work, our job is to empower Whitehead science for the long term. In particular, that means ensuring that these fantastic scientists have the resources and facilities necessary to perform world-class research over time. In other words, enabling them to build on the Whitehead tradition of excellence. 
RL: I have to say, I'm very excited about 2022 and beyond.
SKW: I am too, and I hope everyone will stay tuned to the important developments coming in the year ahead. 
Philanthropy at Whitehead Institute
Our bold objectives 
A letter from Churchill Franklin, chair 
Whitehead Institute board of directors' Development Committee
This past year made clear the impact that foundational biological research can have on the wellbeing of virtually every person on this planet. And it's exciting to be part of an organization that pushes back the frontiers of biomedical discovery.
It has been energizing, too, to experience the leadership offered by Ruth Lehmann as Institute director and Sarah Keohane Williamson as board chair. They are offering a clear vision of how Whitehead Institute will move forward as an inclusive and cohesive research community that is well positioned to meet the scientific challenges of the coming decade. They are, as well, meeting head-on the important decisions that define both the Institute's culture and its capacities.
The cornerstone for those decisions is a sharpened articulation of the Institute's mission-based objectives. Those objectives will include investing in cutting-edge and innovative science that impacts global health, building research collaborations beyond traditional boundaries, and nurturing a culture that inspires and empowers individuals to achieve their full potential. 
The purpose of the board's Development Committee is to help ensure that Whitehead Institute scientists have the long-term financial and technical resources necessary to achieve those objectives. Fundraising since the outset of FY 2021 has been very successful, with strong annual giving and a series of seven-figure major gifts, grants, and pledges supporting both our scientists and our high-impact research programs.
In the next few years, we aim to maintain and build on that strong foundation: cultivating the significant contributions necessary to ensure the Institute's continuing ability to provide the facilities and research technologies our pioneering scientists require. Such strategic-level support will enable Whitehead Institute to continue providing state-of-the-art spaces for principal investigators' and trainees' research; turn our core facilities into robust innovation centers; create common spaces with enhanced capacities for multi-site collaboration and synergistic encounters; and make our operations both more sustainable and more resilient to future pandemics.
In other words, in coming years we aim to take our fundraising to new heights — and invite you to join us in this bold endeavor.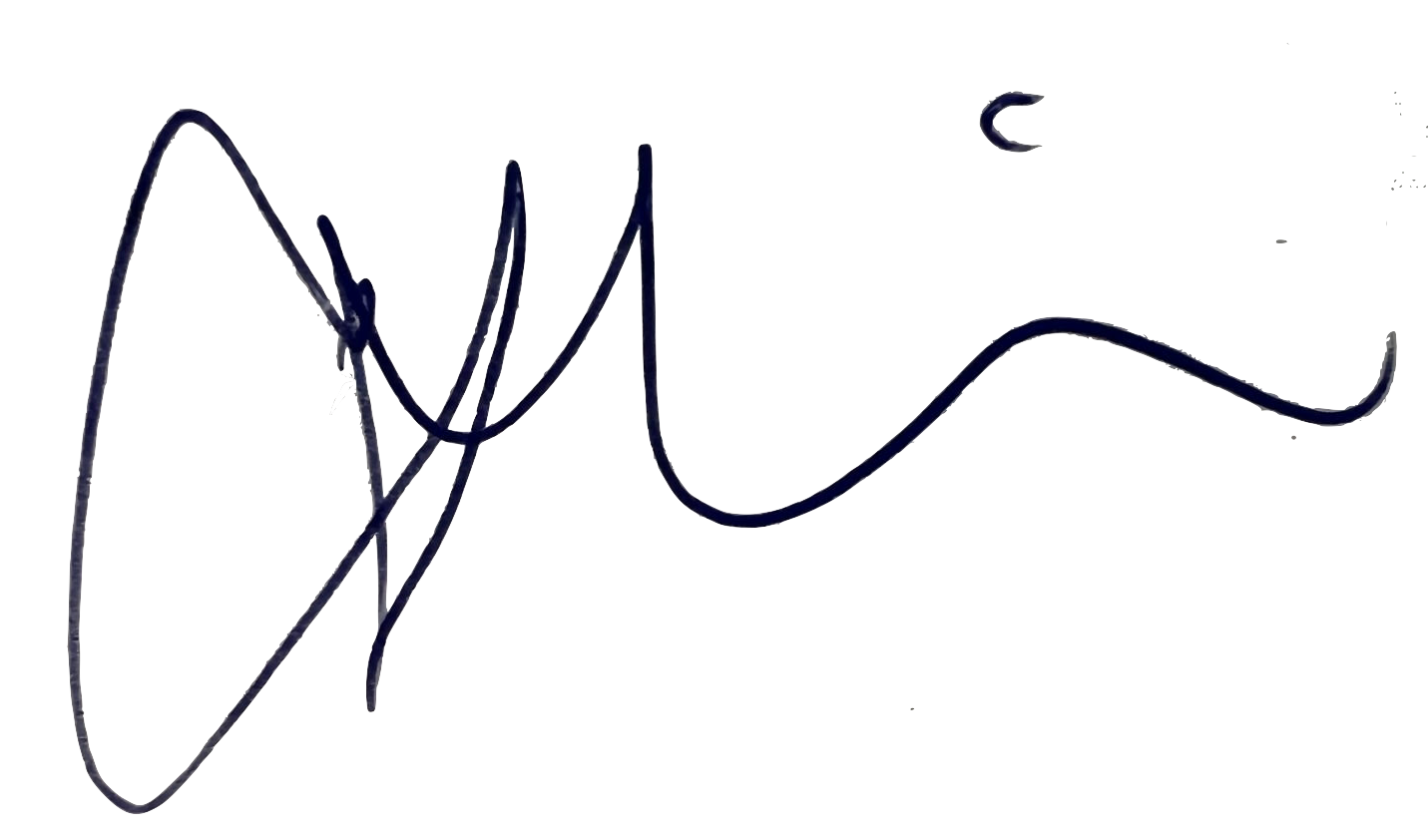 Churchill Franklin
Image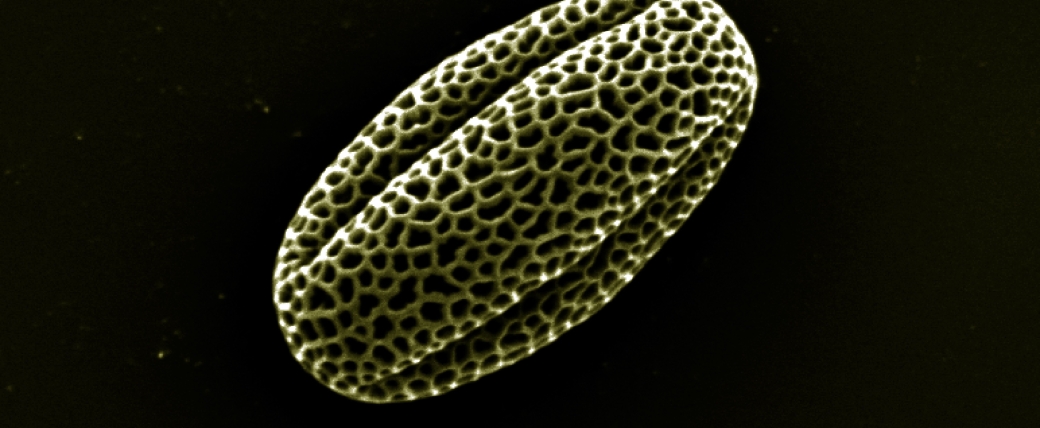 Grantham Foundation underwrites ambitious carbon-sequestration project at Whitehead Institute 
A pioneering effort to develop decay-resistant plants
Plants are highly effective at capturing atmospheric carbon, one of the major contributors to the temperature increase driving global climate change. But when plants die and decay, much of that carbon is again released into the atmosphere.
Whitehead Institute Member Jing-Ke Weng has conceived a way to bioengineer plants to keep a significant portion of their carbon locked up, essentially permanently. If successful, the approach could be translated into practical applications that help reverse the increase in carbon that has prompted rising atmospheric temperatures.
Seeing great potential in Weng's concept, the Grantham Foundation for the Protection of the Environment is underwriting a pioneering, three-year proof-of-principle project designed to produce prototype plants.
The Foundation was established in 1997 by Jeremy and Hannelore Grantham. Jeremy is co-founder and chairman of investment management firm GMO, LLC, and an elected member of the American Academy of Arts and Sciences. In 2016, he was appointed Commander of the Order of the British Empire (CBE) for leadership in climate change activities; and, with Hannelore, received the Carnegie Medal for Philanthropy in 2017. 
"This project is an example of the high-risk/high-reward work that needs to be done to mitigate the negative effects of climate change," says Institute director Ruth Lehmann.
"This project is an example of the high-risk/high-reward work that needs to be done to mitigate the negative effects of climate change," says Institute director Ruth Lehmann. "The Grantham Foundation's support represents the kind of up-front investments in foundational and translational research that philanthropists must make now if we, collectively, are to meaningfully reduce the threats posed by increasing atmospheric temperature."
Weng, who is also an associate professor of biology at MIT, explains that, "Globally, the emission rate of carbon due to natural decomposition of woody biomass is estimated to be eight times that of fossil fuel consumption. Thus, while it is an extraordinarily ambitious goal, if humanity can plant new forests and crops bioengineered to accumulate decay-resistant biomass equivalent to 15 percent of the current global woody vegetation, we will be able to achieve negative carbon emission." 
The carbon fixed in plants is primarily stored in the form of two biopolymers (polysaccharides and lignin) that are subject to decay. However, plants also produce a small quantity of other biopolymers that are naturally more resistant to degradation — and that could be bioengineered to sequester greater amounts of carbon. Sporopollenin is one such polymer; its extreme inertness makes it an attractive target for engineering plants as a permanent carbon sink.
In natural plants, sporopollenin accounts for just a tiny fraction of the total biomass. But the Grantham-funded project aims to bioengineer plants that hyperaccumulate sporopollenin. 
 
Compared to other carbon sequestration technologies, Weng says, "Plant-based carbon fixation technologies can be scalable with very minimum inputs and maintenance. Plus, the resulting decay-resistant biomass could be buried in place or used for industrial purposes such as building material or other products." 
Click through the slideshow to read about some of the honors bestowed on Whitehead Institute researchers this year. 
Whitehead Institute by the numbers
Whitehead Institute is a powerhouse of biomedical science, with a record of achievements belying its size. Our faculty is, per capita, one of the most honored groups of scientists in the world. Our record of discovery and innovation is unparalleled. The impact of our intellectual property far exceeds the expected returns of our research expenditures: with dozens of pharma and biotech companies catalyzed and an increasing stream of therapeutics developed, in clinical trials, or on the market. Hover over the cards below to view a few of the metrics demonstrating Whitehead Institute's extraordinary performance.
32
Patents issued in 2020-21
12.9
IP revenue in 2020, in millions of dollars
15+
Active companies founded by Whitehead Institute faculty
2
National Medal of Science recipients
9
National Academy of Sciences members
5
Investigators of the Howard Hughes Medical Institute
In 2021, Whitehead Institute launched the Director's Dialogues — a series of virtual conversations with visionary leaders of science, education, biotech, journalism, and philanthropy. Hosted by Institute director Ruth Lehmann, the Dialogues offer an inside perspective on the emerging opportunities, challenges, and trends in biomedical science, biotechnology, and health policy. Below are links to each of the first six Dialogues in the series.
Public programs at Whitehead Institute
For almost three decades, Whitehead Institute has maintained a steadfast commitment to science education and outreach by providing learning opportunities designed to enhance science teaching and literacy for the entire community. 
With a variety of programs ranging in scope from lectures and workshops for teachers and students to special events for non-scientists, Whitehead Institute offers its participants first-hand exposure to state-of-the-art research. Through the Institute's K-12 programming, students are inspired to pursue their interest in science, technology, engineering, and math (STEM) and further explore scientific careers. Given the nation's increasing commitment to STEM, Whitehead Institute believes hands-on scientific programs are crucial for developing critically thinking young adults and cultivating the next generation of scientists. 
Below is a sample of our offerings:
Seminar Series for High School Teachers
This monthly program offers educators the opportunity to explore topics at the forefront of biomedical research. Interested educators are paired with Whitehead partners—Whitehead scientists who serve as a resource during the school year. Partners are eager to answer questions, discuss their fields of expertise, and even visit schools to meet with students. The series, which attracts 50-60 high school teachers each year, begins in October and lectures are held the first Monday of every month through June.
The 2021-2022 virtual lecture series, Advances in Agricultural Biotechnology: Emerging tools and methods for climate remediation, will explore how researchers in a range of fields are applying new approaches and techniques to the problems of climate change and sustainability. Learn more here.
Designed as a two-week exploration into the amazing biology that thrives in the world around us, this summer science program for rising 7th and 8th grade students provides immersion in laboratory experiments, hands-on activities that take students both inside and outside the classroom, and discussions with scientists. It allows students to learn first-hand how researchers are answering some of biology's most challenging questions—and have an awful lot of fun doing it! Learn more here.
Spring Lecture Series for High School Students
This program offers students an opportunity to learn about cutting edge topics in biomedical research. The three-day program, held over spring vacation, features lectures from leading scientific experts, hands-on laboratory sessions, visits to local biotech companies, and opportunities to meet with young Whitehead scientists.
The 2021 series, Nature's Library: Biodiversity in Biological Research, explored how scientists are working to push our understanding of the natural world further, learning all we can from biodiversity and why it's more important than ever to conserve it. Learn more here. 
BioNook is Whitehead Institute's online biology resource, offering exciting learning enrichment for students, parents and teachers. Find videos, podcasts and stories on Whitehead Institute Science, as well as virtual workshop opportunities through BioNook's After School Science Club, and ideas for nature-based activities. Learn more here.